Lousy Bush Nature Reserve
Great news!
May 2021 - Lousy Bush Nature Reserve has been granted formal Local Nature Reserve status by Central Bedfordshire Council.
History
In 2010 the Wrestlingworth & Cockayne Hatley Parish Council agreed to allow PWWG to manage an old gravel pit within the parish as a nature reserve. Gravel has not been extracted from the workings for at least 150 years and, apart from some tipping at the north end of the site, has remained largely undisturbed since then.
The Wrestlingworth Enclosure Act of 1801 records that the gravel pit was located in Lousy Bush Meadow.  We therefore named the reserve the Lousy Bush Nature Reserve.
Use the following links to access more information about the site:
Wrestlingworth Gravel Pits - a new parish nature reserve
An article by local naturalist Ian Woiwod which was published in 'Wild about Beds'.
Bird list
A list of birds spotted at the reserve.
Mammal list;
A list of mammals spotted at the reserve.
Insect list
A list of insects spotted at the reserve.
CPRE Bedfordshire Living Countryside Awards
The PWWG Lousy Bush Nature Reserve received a 'Commended' award in the Biodiversity & Landscape Improvement category at the CPRE Bedfordshire's Living Countryside Awards.  The award was presented by HM Lord-Lieutenant of Bedfordshire, Helen Nellis at an awards evening on 7th October 2014 at Moggerhanger Park. This award goes some way to recognise the tremendous efforts put in by the team to date in getting the reserve set up.
We still have lots to do so if you are interested in getting involved in this long term project, please get in touch.
CPRE award presentation 2014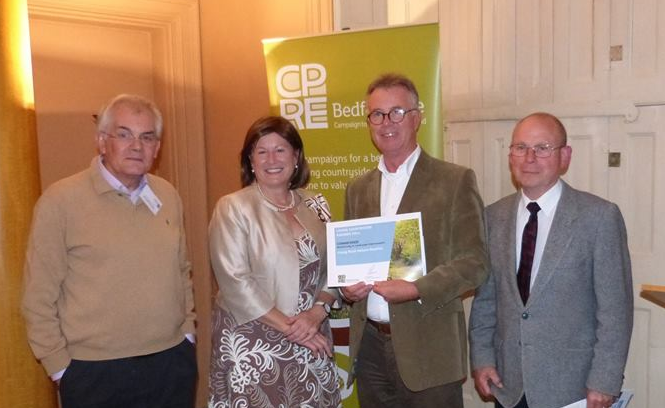 Location of Reserve
The reserve is shown on teh adjacent map.  Walk up Water End and take the bridleway in a westerly direction.  The waymark post has a sign pointing to Lousy Bush Nature Reserve.  After about 1 mile you will arrive at the reserve where you will see an interpretation board.  There is a hide which may be accessed by a gate on the west side of the reserve.  It is not normally possible to get to the reserve from the gate on the north side due to the ponds.
Lousy Bush Nature Reserve